Wow!! I'm amazed at how many people downloaded Egg Parade. And all the sweet comments here and on 4-shared - y'all know how to make a girl smile. I know it's been a little while since I posted. I guess I should just 'fess up now and admit that I will probably just be an occasional blogger, since I don't like to write. So, why would a gal who hates to write want to start a blog, LOL??? Well...I scrapped with freebies for a very long time when I first started digiscrapping. I was always so grateful to those who shared their designs, and I really wanted to be able to share stuff, too. And, I'm having a blast learning more about PSP and how to design things (that's my engineering side).
So, I'm working on something bright and boyish, but I'm nowhere near being done. I'm a slow scrapper, and also apparently very slow at designing, too. I do have another kit to share right now that I did for the January DSO Color Challenge. It was up in the forums there, but I thought I'd post it here if anyone who didn't pick it up there would like it. It's not my usual style, but it's fun trying out different styles and seeing what I can do. Plus, I just really wanted to put that truffle into a kit, lol!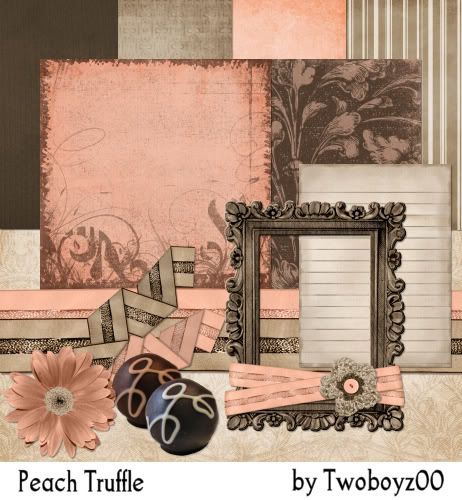 You can download it
here
.
PLEASE don't share this link or upload my kit to any filesharing sites. Just send people to my blog to download. And if you use this in a layout, I'd love to take a peek!