Still re-installing programs after my hard drive crash. I was very fortunate to lose only about a week's worth of data, but it is still cumbersome and time-consuming to restore everything and troubleshoot problems related to my decision to upgrade to windows 7 with the new hard drive. I did want to remind you of today's 40% off sale.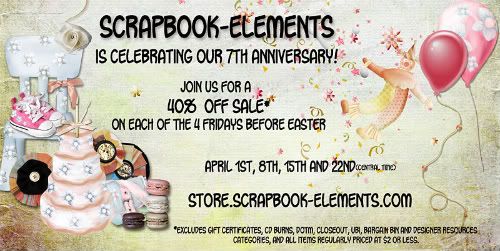 April 1st, 8th, 15th and 22nd (central time)

*Sale excludes gift certificates, CD burns, DOTM, Closeout, UBI, Bargain Bin and Designer Resource categories plus all items regularly priced at $2 or less

I hope you all have a fantastic weekend and a wonderful Easter (for those who celebrate it)!