Scrapbook-Elements is celebrating our 7th Anniversary this month with a 40% off sale on each of the Fridays before Easter. Also, The SBE designers have been busy filling the Easter Bunny's basket with lots of goodies. Each goodie will be available for 24 hours only. After that they are gone forever so be sure to check the forums each day so you don't miss out.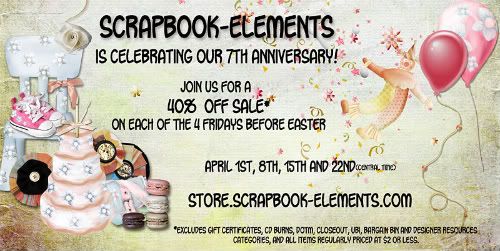 April 1st, 8th, 15th and 22nd (central time)

*Sale excludes gift certificates, CD burns, DOTM, Closeout, UBI, Bargain Bin and Designer Resource categories plus all items regularly priced at $2 or less

Visit my store for some great deals, and be sure to check the forums each day for your Easter Basket goodie!
Hope you all have a fantastic weekend!
Cathy